Interactive cartography, for a comfortable reading, choose full screen mode, navigation is done by clicking on the different points.To discover the chronology of the path, click on "View datas".
Henny Schermann's trajectory
The Nazi rise to power in 1933 led to a campaign of anti-homosexual repression that put an end to a period of relative freedom, during which a lesbian subculture had developed. The regime toughened the law, supplementing section 175 which was already criminalizing homosexual acts between males. Homosexual community life was erased within a matter of weeks. In principle, section 175 did not concern lesbians. However, Nazi ideology assigned Aryan women to the position of mothers and home caretakers. A certain number of trades were prohibited to them.
Have any women been deported as lesbians? Are there any traces of it? Have they suffered social persecution or not? It is mainly thanks to the work of German historians that we can have answers to these questions and present here the trajectory of Henny Sherman.
The book Homophobie und Devianz, published in 2012, gathers various interventions from the eponymous conference held in Ravensbrück in 2010. In this book, Insa Eschebach, director of the Memorial, speaks about deviance and female homosexuality in the Ravensbrück concentration camp; and Claudia Schoppmann presents the portraits of Elsa Conrad, Henny Schermann, Margarete Rosenberg and Mary Punjer
In Frankfurt, since May 9, 2010, four "Stolpersteine" honor the memory of Henny Schermann, her mother Selma's, her sister Regina and her brother Herbert. Selma and Regina were deported in the first convoy that left Frankfurt October 19, 1941. They were murdered in Lodz. Herbert was arrested in France and deported to Auschwitz.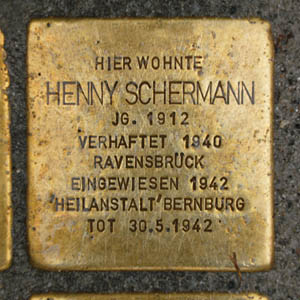 Wikipedia article about Stolpersteine.
Some bibliography sources
Claudia Schoppmann, "'Die weitaus interessanteste Vereinigung lesbischer Frauen Berlins': Die Clubwirtin Elsa_Conrad (1887-1963)," Spurensuche im Regenbogenkiez: Historische Orte und schillernde Persönlichkeiten, MANEO-Kiezgeschichte vol. 2 (Berlin: Maneo, 2018): 102-119. 
« Homophobie und Devianz » Weibliche und männliche Homosexualität im Nationalsozialismus. Insa Eschebach (Hrsg). 2012, Metropol Verlag, Berlin.
Another resource: the work of Florence Tamagne, History of homosexuality in Europe. Threshold, 2000
Other resources on our Internet site www.queercode.net
With the support of: